On August 20, 2000, a 600-year family tradition of idol worship was broken when a newly married couple walked onto the grass at Anaheim stadium. For over 20-generations, Kevin's family participated in the Buddhist ritual of ancestor worship by passing down their family shrine–a family legacy. The shrine went to the eldest son; but Kevin refused. No longer a worshipper of Buddha but a child of God, Kevin and his wife Janet were immediately disowned from his family. Newly married and baby Christians, they refused to cave to the pressures of his family and instead began praying for their salvation.
There were Buddhas all throughout his parents' house, shrines everywhere. He wanted to smash them. But Janet wisely told him, "Probably not the best idea at this moment since you are already disowned." They did their best to stay in touch with his family; and his dad tried to reconcile with them by saying, "You can pay someone to worship the shrine for you." But Kevin again refused to participate in a tradition that was not biblical. He couldn't fathom paying someone to do something he didn't believe in. "We can't deny God before man" they told him. So, his dad disowned their family again.
Years later his dad had a massive stroke and while in the hospital, he gave his life to Christ. He was a changed man, singing hallelujahs while on his hospital bed with a smile on his face and joy in his heart. He told Kevin and Janet, "I watched your life and I saw that you never backed down." They never compromised on their God-given convictions, even when they were disowned by their family, and that is what caught his attention.
On his death bed, his dad said that he wanted a Christian funeral. Knowing no one would believe him, Kevin grabbed a video camera to record his dad's final wishes. At the funeral Kevin was able to share the gospel with everyone who attended. A year later, his mom gave her life to the Lord. The Buddhas naturally disappeared from her house and she started going to church, serving the Lord. Christian songs always brought her peace, even before she accepted Jesus Christ into her heart, "the Holy Spirit working through worship." She now sings in the choir at her church.
No family is beyond the reach of Jesus Christ. He is in the business of breaking those chains of bondage that have holds on families. The power of the gospel transforms lives. It transforms families. It breaks the culture. God is Sovereign and on the throne and it just takes one person to stand strong in their convictions for legacies to change.
"You know what?" Kevin said, "I wish someone had shared Jesus Christ with me when I was younger." So that is what impresses his heart to share the Good News, to be a Barnabas and encourage other people.
Janet clearly remembers the follow-up counselor that talked to her the night she accepted the Lord. The counselor encouraged her to read the book of John because "John is God's love letter to you," and to share her faith with others. Janet went home, read John 1 and started memorizing verses immediately. She wrote them on post-it notes and put them in her car, asking God what He wanted her to memorize. She then got out her Rolodex (because that's what was used back then) and found five people; she called them to share that she had accepted the Lord. That is why the follow-up ministry is so precious to her– she is passing on what was so special to her, "It's like being in the baby nursery . . . we are the ones being blessed."
In 2009, a couple weeks before her fourth birthday, their daughter Faith wanted to walk forward at the Harvest Crusade. Turning to her mom, Faith said, "I want to go up." Thinking she was too young, Janet wasn't going to let her; then she immediately heard Pastor Greg say to the crowd, "No one is too young or too old." They walked forward. Today, Faith loves reading and memorizing Scripture and she wants to write books like C.S. Lewis' Chronicles of Narnia.
Kevin and Janet love sharing the gospel and praying for the patients at their medical clinic, serving the Lord in the capacity He has called them. They have Scripture on the walls in every room and they play worship music all day. This allows the patients to recognize that they are Christian and the door opens very quickly for them to share with the terminally ill. Kevin and Janet pray for them, share the gospel, and give the patients Bibles to take home. "We have a prayer list of all the people who have come to the Lord from the clinic . . . We are there to minister and share the gospel when the door opens. The seeds are planted and we know it never returns void."
Kevin and Janet enjoy serving in V2 and Follow-Up. "The Lord puts us in different ministries to grow us because ultimately we want to reflect Christ" and "it's strengthening being in the house of the Lord."
You do not know what your obedience to the Lord, walking worthy of the calling, will do in the life of another fellow sojourner. Heaven is our home; we are walking along here now. Our audience of One sees every need. All glory goes to Him!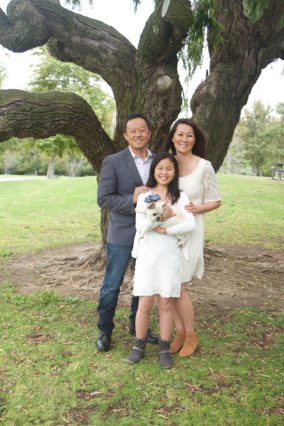 Stay connected to church with weekly e-mail(s) including events and opportunities to serve. Sign up here!