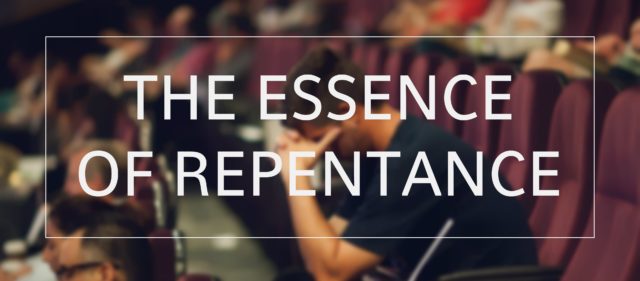 Living in a way that is "Honest to God" includes being authentic and transparent before Him. As we have journeyed through the life of David with our V2 learning groups, we have seen a reoccurring topic related to this theme: repentance.
Sometimes, repentance can be confusing. It's a word filled with religious connotations, whereby some people may think it means to just be sorry for sin, to try harder next time, or to strive for perfection. Thankfully, Scripture provides a clear picture of the nature of repentance—what is it and how it occurs.
Essentially, to repent is to turn away from sin and to turn to God by faith; it's to confess our sin and to trust in and believe the good news of the gospel. This belief then involves the altering of behavior, as the internal affections of the mind and heart influence the external attitudes and actions of the body.
Repentance is also expressed both in our salvation and sanctification, as we have spiritual union with God when we first believe by faith, and as we have relational communion with God through the daily exercise of our faith. Therefore, repentance isn't a one-time experience at conversion, but a continual confession of our need for God's grace as we are progressively transformed into becoming more like Christ.
In honestly reflecting upon our spiritual condition, we will face the reality of our sin. This can be hard to do as we open up and admit things about ourselves that we do not like. However, when we do this, we are also able to see the remedy for sin because of our Savior. Like David, our heartfelt repentance (see Psalm 51) can be followed with hope-filled gratitude (see Psalm 32). So, as we continue to journey through our V2 study, it will be helpful to know how we should respond to our sinfulness by being familiar with the topic of repentance.
There are many vital elements in repentance. The 17th century puritan author, Thomas Watson, describes repentance as a spiritual medicine comprised of several different ingredients: sight of sin, sorrow for sin, confession of sin, shame for sin, hatred for sin, and turning from sin.[i] Inspired by such ingredients, below are six essential "R's" of repentance:
Realization of Sin
"Surely there is not a righteous man on earth who does good and never sins" (Ecclesiastes 7:20).
Having the knowledge of your human sinful nature is the first step in repentance, for you cannot repent of sin until you realize your need to do so. While many may self-identify as "good" people who are worthy of heaven, it is important to remember that our self-analysis is not based on cultural or societal standards, but based on God's Word. The Bible says "there is none who does good, not even one" (Psalm 14:1; Romans 3:11), for "all have sinned and fall short of the glory of God" (Romans 3:23). So, the first vital element of repentance is a realization of your own sin—that you're a sinner in need of a Savior.
Remorse for Sin
"As it is, I rejoice, not because you were grieved, but because you were grieved into repenting. For you felt a godly grief, so that you suffered no loss through us. For godly grief produces a repentance that leads to salvation without regret, whereas worldly grief produces death" (2 Corinthians 7:9–10).
In repentance, Paul says that godly grief should occur. To have godly grief is to have remorse for sin, which is to show deep sorrow and regret over sinning against God. When this occurs, you will be "grieved into repenting." And because it is a godly grief—a grief that doesn't just acknowledge wrongdoing, but also admits crime and offense against God—it produces repentance that leads to salvation, for it leads to a confession of sin and an acceptance of the gospel. Remorse for sin is sour, but it leads to the sweetness of the gospel.
"Till sin be bitter, Christ will not be sweet." – Thomas Watson
Recognition of Sin
"For I know my transgressions, and my sin is ever before me. Against You, You only, have I sinned and done what is evil in Your sight" (Psalm 51:3–4).
When you realize you are a sinner and you see your need for a Savior, you'll then come to the point of recognizing your sin. This is to confess your sin to God and to ask for forgiveness. To recognize and confess your sin is to do what David did in Psalm 51: admit you sinned against God and agree with Him that you are guilty. In addition to recognizing your sin, you are to also recognize the remedy for it—the cross of Jesus Christ.
Resentment of Sin
"O you who love the Lord, hate evil!" (Psalm 97:10a)
The reproach of sin creates a resentment of sin. This is a righteous reaction to the wickedness of sin and its negative effects. True hatred for sin in repentance is a sure sign that godly grief has occurred, for the natural person does not hate sin, but loves it. Some people get upset because their sin found them out, but those who repent hate their own sin because they see what it did to their Savior. Therefore, resentment of sin occurs because of love for God.
"Look to the cross, and hate your sin, for sin nailed your Well Beloved to the tree. Look up to the cross, and you will kill sin, for the strength of Jesus' love will make you strong to put down your tendencies to sin." – Charles Spurgeon
Removal (and Replacement) of Sin
"Wash yourselves; make yourselves clean; remove the evil of your deeds from before my eyes; cease to do evil" (Isaiah 1:16).
The resentment of sin prompts a removal of sin. Sin will not remove itself from you; you must remove yourself from sin. And most importantly, you need to remove the evil of your deeds from before God's eyes. The removal of sin is essential in repentance, for it demonstrates a true turning from sin. This does not mean that you try to be perfect, but that you are taking practical steps to think and act in a godly manner. This also means that removal is followed by replacement, as sinful acts are replaced with spiritual practices. Or, as Paul puts it, we are to "put off" and "put on"(Colossians 3:8–14) as the works of the flesh are replaced by the fruit of the Spirit (Galatians 5:16–24). By God's enabling power, we can continue to grow in the grace and knowledge of Christ on a daily basis (2 Peter 3:18).
Rejoicing over Forgiven Sin
"Wretched man that I am! Who will deliver me from this body of death? Thanks be to God through Jesus Christ our Lord!" (Romans 7:24–25).
Some people may wrongly hear the word repent as being somewhat harsh or negative, when in fact, the end result of repentance is positive. Repentance should lead to rejoicing! We should be joyful over the fact that God has dealt with our sin, as we consider the past, present, and future aspects of our salvation: freedom from the penalty of sin in justification, freedom from the power of sin in sanctification, and freedom from the presence of sin in future glorification. True repentance will always lead to true rejoicing, for biblical repentance always leads to believing and clinging to the gospel—the good news for sinners who are loved by their Savior.
"Just as we cannot enter into true repentance without sorrow for our guilt, we cannot emerge from true repentance without joy for our release from shame." – Bryan Chapell
As we are honest and authentic before the Lord, may we be quick to repent and quick to rejoice, recognizing that we may be great sinners, but that Christ is an even greater Savior!
[i] Thomas Watson, The Doctrine of Repentance (1668; reprint Edinburgh: Banner of Truth Trust, 1987), p.18.