We received the following e-mail from Tanya at the Riverside County Housing Authority:
It's been two weeks since the Veteran Housing Fair we hosted at Harvest Christian Fellowship. There were a total of 40+ Veterans present who were served in one way or another. Together, we worked with the VA Loma Linda and issued a Housing Choice Voucher through the HUD-VASH program to 11 veterans who had not yet been connected to a housing provider. In addition, many of the veterans present were connected to other service providers such as: Lighthouse Social Services, Behavioral Health, Housing Authority of the County of Riverside, and U.S. Vets.
We know that ending veteran homelessness involves various partners throughout the community and we want to thank Harvest Christian Fellowship for opening its doors as a partner for this imitative. We received a lot of great feedback concerning the location and your entire team of staff worked above and beyond in helping us manage the operation of the event. I wanted to share with you the stories of two veterans who recently moved into their apartments as a result of this effort:
Fred Deliz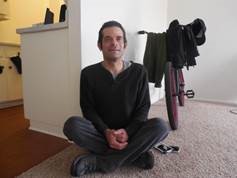 Fred Deliz received an Honorable Discharge after serving in the U.S. Army for nine years from 1988 to 1996. Things took a difficult turn two years ago when he lost his job and was no longer able to maintain his housing. He later heard about programs to assist veterans with housing through his church. Fred had been staying at a local shelter when he was connected to an outreach worker in the City of Riverside who invited him to attend the Veteran Housing Fair. While at the Fair, he was connected with a social worker through the VA Loma Linda and was issued a HUD-VASH voucher. That very same day, the Housing Authority connected him to a local landlord who had reserved a unit for the Veteran Housing Fair. Fred did not return to the shelter that night. Instead, he spent a warm evening in his very own apartment. When asked how he feels now that he has a home he states, "I feel like I now have some purpose and direction. I mean, I feel empowered, fortunate and blessed."
Ed Sherwood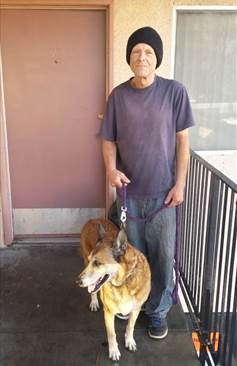 Ed received an Honorable Discharge after serving in the US Army from 1975 to 1976. He would also find himself homeless for the last two years. Ed has a history of chronic homelessness which made it a bit more challenging to build his trust. A Council Member from the City of Riverside learned about Ed and asked the City's Outreach team to engage him for services. He was then connected to the VA Loma Linda and issued a HUD-VASH voucher in July 2015. Due to the challenge of finding an affordable housing unit (in addition to finding a landlord that would take his dog) and other significant barriers, his voucher expired before a housing placement was identified. Nonetheless, our local outreach teams did not give up and transportation was coordinated for him to the DMV for him to obtain his California ID and VA Loma Linda Medical Center for continued healthcare treatment. Ed reports hearing about the Veteran Housing Fair through the Housing Authority and a Secretary at Harvest Christian Fellowship. He attended and was issued a new HUD-VASH voucher and matched to a unit that would be ready for move-in December 30. He is now in his unit and expresses a sincere appreciation for everyone who, ". . . never gave up on him."
These two stories remind us that it truly takes a community to help those that need us most. Thank you again for your invaluable support.