Radio
Weekly half-hour program:
A

New Beginning
Today's radio program
Evangelism, Jesus Style
– II
Right now, this very moment, there may be someone in your circle of influence that God wants you to help. They're carrying the burden of their sin and the Lord wants you to share the hope of Christ. Pastor Greg Laurie offers practical help on how to do that
most effectively.
 Listen

Did you pray with
Pastor Greg?
To help you get started, we would love to send you a free Bible and other resources to help you grow in your faith.

Get free resources ›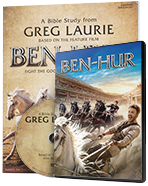 Support Harvest
Be part of the life-changing work God is doing through Harvest. In thanks for your gift we will send you Ben-Hur DVD and Bible study. Donate ›
Greg's notes
Sign up to receive weekly e-mails with outlines of Pastor Greg's message notes.
Get the notes