Radio
Weekly half-hour program:
A

New Beginning
Today's radio program
The Choices of World Changer
– II
Choices have consequences. And our lives bear witness to the past choices we've made. Pastor Greg Laurie helps us make wise choices going forward by leaning on the Lord and His direction for
our lives.
 Listen

Did you pray with
Pastor Greg?
To help you get started, we would love to send you a free Bible and other resources to help you grow in your faith.

Get free resources ›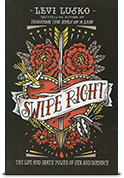 Support Harvest
Be part of the life-changing work God is doing through Harvest. In thanks for your gift we will send you Swipe Right: The Life-and-Death Power of Sex and Romance. Donate ›
Greg's notes
Sign up to receive weekly e-mails with outlines of Pastor Greg's message notes.
Get the notes