Your gift helps reach the lost with the gospel of Jesus Christ
When you donate to Harvest, you join a team committed to knowing God and making him known. Harvest reaches millions of people each year who are hungry for the gospel. Your gift supports:
Greg Laurie's radio program, broadcast on more than 800

stations daily

Harvest America and crusade events, which bring together hundreds of thousands to hear

the gospel

Know God, an initiative to answer questions

about faith

Online broadcasts that reach more than a million people

each year
Your gift using the form below is a fast, secure way to help reach the lost with the gospel. Thank you for supporting Harvest. To God be the glory!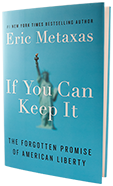 In thanks for your
gift . . .
Eric Metaxas reminds us that the American Experiment put into motion by our country's founders is at a precarious point in history. Have we forgotten our role in keeping America the land of the free? Explore "the forgotten promise of American liberty" in this great read.
We'll send If You Can Keep It as a thank-you gift when you donate this month.