Get biblical truth in your inbox each morning
Harvest's Daily Devotional will teach you to apply biblical truth to your life every day.
Written by Greg Laurie, senior pastor of Harvest Christian Fellowship, these daily devotions will give you strength and encouragement through:
Relevant Topics
Practical Applications
Biblical Teaching
You're almost done!
But first, there are three important pieces of information for you to know:
In just a few minutes, you will receive an e-mail from us. You will need to click the activation link in the message to confirm your e-mail address.

This will officially get you the daily devotions sent directly to your inbox each morning from Pastor Greg Laurie. Check your inbox shortly.

The daily devotions are completely free for you because Harvest Ministries is donor-funded.

That means other generous people, like you, have made the development and delivery of these devotions possible through their donations to our ministry. Pretty incredible!

We want more people to be able to take advantage of these free daily devotions. Don't you? Would you give a gift to Harvest Ministries today

and make possible the opportunity for others to receive these Daily Devotions in their inbox each morning? Your gift will help more people find out about this incredible biblical resource and encourage and challenge them in their walk with Christ every single day. Don't hesitate—give your gift today!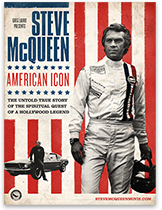 In thanks for your
gift . . .
Support Level: $25–$49 Steve McQueen "Bullitt" Lapel Pin
Sponsor Level: $50–$99 Steve McQueen "Bullitt" Lapel Pin and a copy of the book Steve McQueen: The Salvation of an American Icon
Presenter Level: $100+ Steve McQueen "Bullitt" Lapel Pin, a copy of the book Steve McQueen: The Salvation of an American Icon, and a Special Edition Movie Poster with digital signatures of the film's producers
We'll send them to you with our appreciation when you donate this month.