Transform your life
by making nine important decisions
So many of us are doing well to simply survive the everyday business of life. However, God wants us not just to survive, but to thrive.
Through the Holy Spirit, we have the ability to live a life beyond amazing, but so few Christians are tapping into that power offered to us.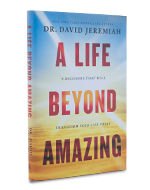 In his new book, A Life Beyond Amazing: Nine Decisions That Will Transform Your Life, Dr. David Jeremiah takes an in-depth look at the fruits of the Spirit listed in Galatians 5, and translates them into nine practical decisions that we can make to see transformation for the better.
A Life Beyond Amazing is our gift to you in thanks for your donation to Harvest Ministries this month. When you give, your donation will be used to disseminate the biblical teaching and preaching of Pastor Greg Laurie through radio, TV, books, sermons, and more.
Support the work of evangelism this month and receive A Life Beyond Amazing with our thanks!
Harvest Christian Fellowship is registered as a 501(c)(3) non-profit organization in the United States. Donations to Harvest are tax-deductible to the extent permitted by law and are used to further our mission. Harvest's tax identification number is 95-3060779.