Get an exciting new tool
for your evangelism toolbelt
Steve McQueen's story is a bridge to the greatest story ever told—the story of the life, death, and resurrection of Jesus.
That's why I've created the film Steve McQueen: American Icon. It's my hope and prayer that it will be the most effective evangelistic tool that we have ever created.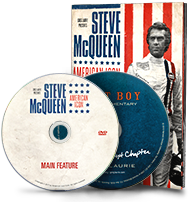 We're offering it to you on DVD in thanks for your ministry donation this month.
I'm praying that you will get a copy and show it to your friends and family who don't know Jesus—and that it will be a launching place to talk about spiritual things and share your faith.
It also makes for a fantastic Christmas gift idea. But we're only offering this DVD through December 31!
Will you get a copy and put it to use? It's already making an impact. Look at these two emails I received:
My family and I were crying at the theater yesterday; we invited two friends and we heard them pray with your during the invitation to receive Christ. It was an

amazing film.

—Feli



Watching the "American Icon" confirmed and reinforced my quest for Jesus. Although being born again ten years ago, I struggle staying on course, but after viewing this movie I have more confidence in staying strong with my compass straight

to Jesus.

—Ron
When you donate to Harvest Ministries, you're helping to create and share innovative spiritual resources like this film—to get the message of God's salvation to the world!
Thanks so much,
—Greg
Donate by December 15 in order to receive this DVD in time for Christmas gift-giving.