As a four year old girl, I remember going to the first Harvest Crusade. The excitement of my Dad and Mom was evident. My family picked up my great-grandmother who lived in Orange County at the time. She loved Jesus, and was just as excited to see what God was going to do that night, as much as my parents were. I remember seeing the giant "Jesus" balloons when we walked into the Pacific Amphitheater. We sat on the grass as a family, my parents, grandma, and brother. I remember the feeling of excitement as the Maranatha worship team lead us in worship. "Jesus, Mighty God. Our rock, our fortress our defense," echoed so loud. Even at four years old, I felt something. Now I know it was the Holy Spirit moving my little heart.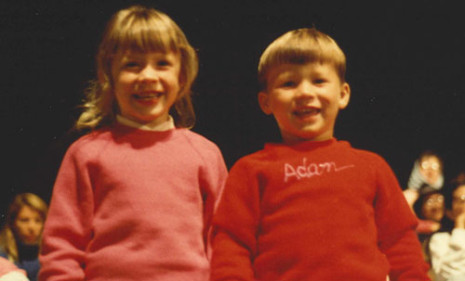 As the years went on, the excitement continued in a much larger way. My family was now serving at the crusade every year. The term "crusade season" was synonymous with that same excitement that the crusade brought as a little girl. It became a normal occurrence to fill the Angels stadium to capacity. I remember one year when Audio Adrenaline performed, the second level of the stadium looked like it was bouncing as thousands of people were jumping to the music. I had the privilege of taking an active role in serving with musician relations. That was a fancy word for assisting to do whatever it takes to get everyone on stage at the right time. I remember being exhausted after the crusade was over Sunday night. Every muscle in my body (but mostly my feet) hurt, but it felt so worth it! Seeing a field filled with people committing their lives to Christ, and hearing stories about how radically someone's life has been changed. It was a high, a motivation to continue the work the Lord was doing.
Now that I am a mother of three kids, I can't serve in the capacity I once did. It is hard to get them all in, and keep their attention for the whole crusade. Sometimes, I wish I was able to serve in that way. But my children are my priority, and my main ministry. The temptation to just stay at home, and let my family continue to serve is always there. But I really want my children to have the same memories that I did as a child, and to have those experiences. I explain to them during the alter call, to be quiet, and watch because those people are asking Jesus into their hearts. My five year old is starting to understand it. But my three year old is a normal rambunctious boy, who rarely sits still.
At this years crusade, I did't realize it, but I was still serving as I did years ago, but in a different way. I was serving my children. By Sunday night, I felt almost as tired as I did when I served years ago. We had a rough time getting to the crusade that night, having to wake the kids up from their naps, followed by tantrums. We left later than expected, and the stadium was filling quickly. When we got situated, we were up and down with bathroom brakes, and to stretch legs. Chris Tomlin started his set, and all the stadium was singing and worshiping. I looked over at my three your old son, and he was not only singing, but he had his hands raised. In that moment all of those same feelings rushed back as I got to see one of the souls I'm fighting for surrender to the same Spirit that moved my heart 25 years ago. That moment made all the hard work of getting them to the crusade to experience it worth all of the "work." It's not work, it's service.