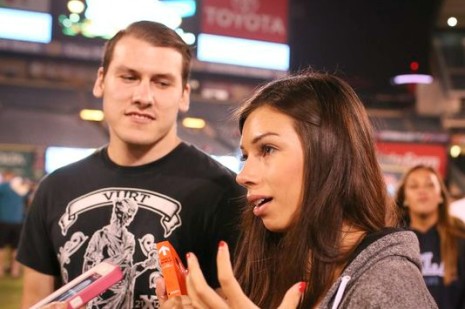 Destiny sat in the stands tonight, listening as Pastor Greg delivered a message of faith and hope. Something was stirring inside her. She felt something "new." She thought to herself, "Today is the day." But even after Pastor Greg delivered the invitation to come down to the field, she hesitated.
Thankfully she came to the crusade with Nick, her boyfriend of two years who has strayed off the straight and narrow and knew that he had to get down on that field. This was his chance. When I came across the two of them, Destiny was obviously emotional about her most recent decision.
Destiny and her family are going through a hard time and she feels for her Dad who is struggling to provide for the family in this economy. "I just felt something inside me. I had to come down. I need to just pray and have faith because I know that God has the answer." Amen Destiny! You are absolutely right.