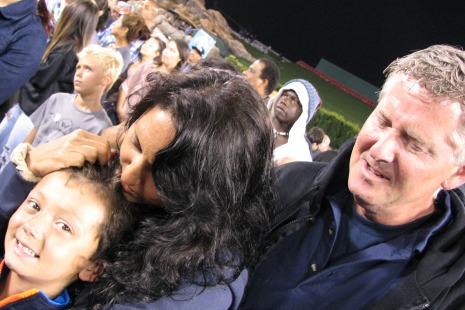 I am so blessed to have been down on the field watching as droves of people poured out of their seats and onto the grass in response to the gospel message. The Holy Spirit drew me toward a family of three: Scott, Jasmine, and their son Shawn.
Scott stood in tears as he embraced his wife and son. When Pastor Greg Laurie began to explain how Jesus died for our sins, little Shawn's eyes began to well up with tears. What a beautiful sound to hear the family pray together to put their trust and faith in Jesus Christ.
Before they were married, Scott had invited Jasmine to church and she invited Christ into her life. But in recent years, Scott had fallen away and the two became separated, leaving little Shawn absolutely devastated. Thankfully, the Lord drew the family to the SoCal Harvest for such a time as this, and Scott rededicated his life to Christ.
Tonight was about family. The healing of them, the loving of them, and the thousands becoming a part of the most amazing family–the family of God.