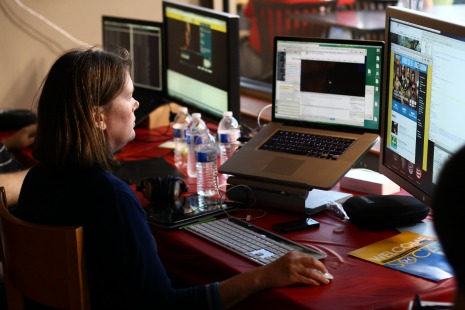 Every year I have the privilege of working at the Greg Laurie SoCal Harvest with Harvest's Web Department.
Several months prior to these events, we begin preparation alongside the Crusades, Video, and Design teams to develop and fine tune a strategy to get the gospel message to as many people as possible. This weekend is the culmination of a many full days (and nights) of programming, testing, building webcast players, writing e-mails, building web pages, and discussing social networking strategies. A lot of prayer, sweat, and tears go into these events.
It's a great blessing for us to step outside of the web room (behind home plate) during the invitation and just witness the power of God as thousands stream onto the field to make decisions for Christ.
In the day-to-day, I sometimes forget why we've poured ourselves out in preparation for this event. The reason is this: we're passionate about reaching the lost with the Good News of Jesus Christ!
I'm proud to be a part of this team . . . and so very happy God has made me His own.