Maritzabel and Angel Gomez felt the tug on their hearts as they contemplated coming down to the field when Pastor Greg gave the invitation during the last night of the Los Angeles Harvest Crusade.
"We just knew we had to rededicate as a family," said Angel. The couple walked down to the field with their two daughters, Jessica and Jasmine.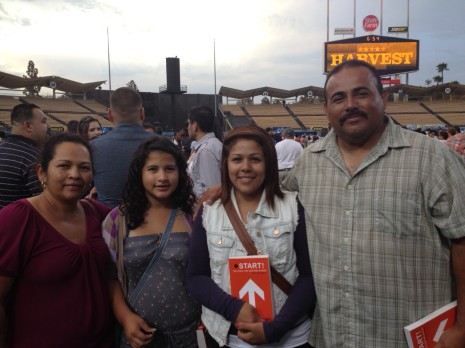 "I want my girls to follow Jesus and be a good influence in their school," said Maritzabel. The girls shared their desire to fully follow the Lord and grow more in the knowledge of Him and His word.
"The Bible I received when I gave my life to the Lord at the Anaheim crusade really helped me grow. I know it will help my daughters as well," said Angel.
The Gomez family praised God as they left the field, knowing that God indeed pursues them, loves them, and will guide them as they seek to put Him first in their lives.