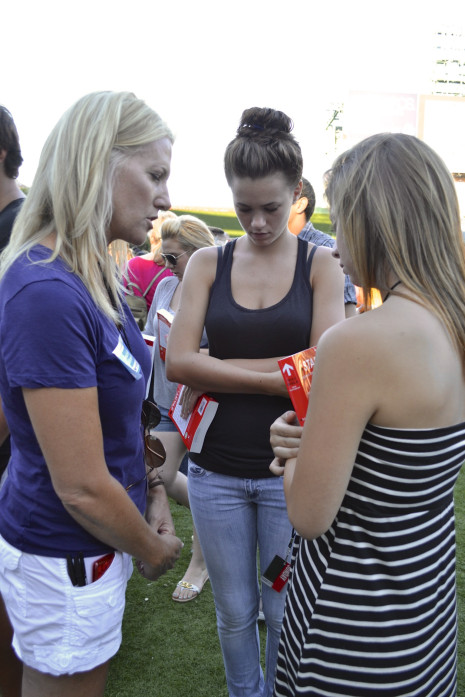 It was so crowded on the field tonight. Praise the Lord! I shadowed Marne, a decision follow-up counselor who attends Harvest and had been doing decision follow-up for 8 to 10 years at the crusades. She was very focused on the crowed, no doubt praying for the people who were in front of her.  As Pastor Greg finished leading everyone in prayer, fireworks shot off behind us! He likened them to fireworks going off in heaven rejoicing for the lost being saved.
As the noise began to rise from the crowd cheering for the harvest, Marne was focused on making sure that no one walked off the field without a Start! Bible.  If someone doesn't have a Start! Bible when they leave, they probably haven't been talked to, encouraged,  instructed, or prayed for.  She spotted two young ladies headed for the exit.  She introduced herself and  began explaining to them what the Start! Bible was and how it is different from other Bibles. Marne instructed them to go to a church, to seek fellowship with other Christians, to pray daily, and just all around encouraged them.  "Don't ignore the Lord; He's speaking to you," she told them. Then she prayed for the girls' relationships, jobs, for them to continue to follow Christ in their lives and to open up opportunities for them to tell others about what Christ has done for them.
What a blessing she was to those young women, encouraging them with words from God's Word and her heart.