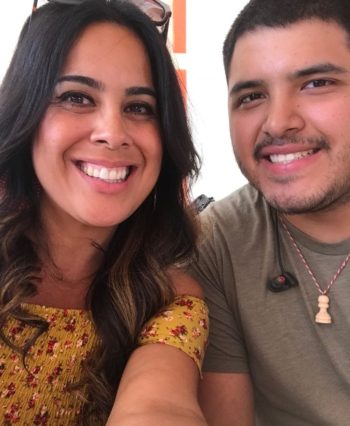 On Mother's Day, in May 2010, Lori Bustillos' mom had an aortic dissection. Her mom underwent a stressful six-hour surgery; and Lori recalls hiding on the side of the house crying, telling God, "If You give me my mom, I will follow You." Always strong in public, she never shed a tear. She had to be the strong one for her family. At this time, an overwhelming amount of people were praying for her mom, and her mom lived.
Lori grew up Catholic. She thought she would follow God as a Catholic. Her best friend had been praying for her for three years to accept Jesus Christ as her Lord and Savior. After her mom's surgery, not sure what to do, she began attending different churches, Harvest Orange County (OC) being one of them. On July 4, 2010, at Calvary Church West Grove, she accepted Jesus Christ as her Lord and Savior at their Freedom Celebration event. "When the Fourth of  July comes it is definitely freedom for me. Free from death. Free from sins. A cause to celebrate this freedom!"
One of her favorite memories is when her son Andrew accepted Jesus Christ as his Lord and Savior at the Harvest Crusade, in August 2010. "I was only a believer for a month and a half, but it was amazing seeing what God was doing in my family."
She decided to make Harvest OC her home church because she connected with the worship. She also noticed that everyone brought their Bibles and opened them up in church. Whereas, the other church she was attending did not; they placed the Scripture verses on the screen. So too, growing up Catholic, Communion had always been an intimate time for her and she was drawn to the intimacy of Communion at Harvest OC. She had her first experience taking Communion as a Christian there. After service, she was able to ask Pastor Greg the difference between Catholics taking Communion and Christians, and he explained it to her.
"The community at Harvest is amazing. I don't know where I would be today without being mentored and being encouraged when I see new believers come to know the Lord."
It has been a journey for her, though, as she has gone through a lot of hardships within her own family. But having people pray over the situation and be there for her has meant so much. Lori has learned how to be completely transparent with whatever she is going through. "I used to cover up my vulnerability, I would never cry in public. But as soon as I became a believer the waterworks began to flow."
At one point, her friend shared that the Lord had given her a gift with children, but she was hesitant to start serving in the Children's Ministry. Then she realized that she couldn't sleep in on Sundays anymore and she was waking up early. She knew the Lord was preparing her heart to serve. In 2012, she started serving with the one-year-olds, doing "diaper duty for Jesus." She loves serving with the children, watching them grow and learn how to say "Amen" and "Jesus" and learning the songs.
"Recently, I was asked to be a leader in the Exhale Ministry. That was really beautiful. I often hike by myself and one of my prayers was to have adventurous friends and here the Lord gives me a ministry, a ministry with something I love to do and I get to share that with others."
It is a blessing because the first time Lori went to Exhale, she didn't connect with anyone. It took her about a year to go back to the ministry, and she is so glad that she did; as she has met most of her friends at Exhale or Virtue. So too, it was through being encouraged by the Exhale Ministry that she ran her first half-marathon. It was really difficult for her and she texted some of the leaders during the race, asking for prayer. They prayed for her and she was able to finish. What a joy to be able to be discipled through the art of exercise. She has now run five half-marathons, and her sixth one will be in February. "I never thought I would have this accomplishment under my name. I don't know what I would do without my Harvest family."
"The joy of the Lord is my strength! Nehemiah 8:10 is my life verse. There is so much joy in this relationship that I have with Him."