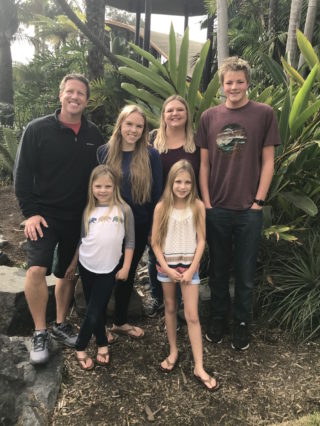 Family is a gift, and life is filled with different seasons. Parenting through the different seasons is stretching, but as parents love the Lord with all their heart, soul, and mind and love their neighbor as themselves and say to their children, "Follow me," they teach and live the love of Jesus.
Eric and Becky VanderWeerd will be celebrating their 20th wedding anniversary come April. They have four children: Makaya, 17; Cobian, 14; Cambria, 9; and Mayzie, 7. Their prayer for their kids is that they would put God first in the decisions they make and that they grow up as mature Christians serving the Lord in the capacity to which He has called them.
Eric is a high school P.E. teacher/golf coach and Becky is an elementary school teacher; every morning Makaya and Cobian ride with Eric to school and Cambria and Mayzie ride with Becky. Two cars going in separate directions for the day, but on the same page as they all pray in the car on their way to school. They have come to value those moments in the car with their kids, listening to Christian music, praying, encouraging them to be shining lights at school and good examples, realizing every moment matters.
As a high school teacher with kids that are high schoolers, Eric noticed that now he has a different take on teaching high school. "I am more aware of what I say and the example I am setting for my students . . . to be like Christ as much as possible, caring, loving, and understanding."
In this season of parenting, Eric and Becky have found that life can get pretty busy as they are constantly driving their kids somewhere; from running the girls to dance at different times and sometimes different studios to taking Cobian to water polo. But no matter how busy they are, they seek to put God first. Church is a priority, as well as setting aside specific times for family devotions—reminding the kids to put God first in the decisions they make and to not allow the things of the world to overtake them and affect how they feel.
They make it a point to be involved in their children's lives by spending time together, communicating with one another, and making sure that the kids understand that God is center. Becky will text the kids Scripture verses during the day to encourage them, and they will talk about their day and the specific decisions that they made. They try to do activities together as much as possible. They love to walk and go for hikes and ride their bikes at the beach.
The beach is a favorite place to go—camping at San Elijo where they can surf and paddle board, or day trips to San Onofre, or a walk around Crystal Cove, or staying at Paradise Point. They also enjoy camping at Zion. It is always a goal to choose activities that involve movement.
Serving in the Resource Booth as a family at the crusades is something they look forward to. Eric and Becky, as well as the kids, love interacting with the people selling t-shirts, hats, CDs, and books. It's a blessing to serve the people by helping them choose resources that will impact not only their own quality of living but others', as every t-shirt sold pays for five bibles that can be given away at the crusade.
Family is a gift—a blessing. But parenting isn't easy. It takes diligent work and faithfulness on the part of the parent. One of the hardest aspects, Eric and Becky have found, is that they cannot treat their children the same; they parent the kids according to their specific needs and according to age and gender. They cannot treat their teenage son and daughter like they treat their two little girls, or vice versa. It is a blessing to be stretched in this way, as they seek God and His guidance in raising their children in the ways of the Lord, setting an example the kids can follow.