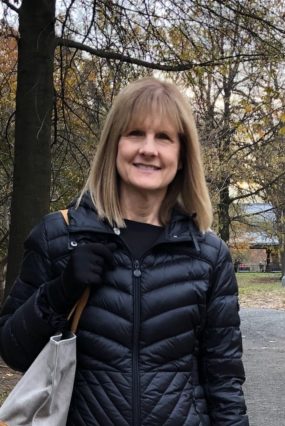 The growth of every believer comes from the hand of God. He alone knows the depths of a heart and calls His people to take steps of faith in obedience.
Quick obedience to the voice of the Lord moves one in the right direction. In looking back over the years, Peggy Miller shares that she didn't always have that quick obedience. But now her heart's prayer is that she would. "When God tells you to do something, don't ignore it." It is truly listening to God and setting aside one's own will. God knows best. "If we say we love God—we obey Him."
Peggy has been married for 35 years to Matt Miller; they have a daughter, Alysha, and a son, Aaron. She has been attending Harvest for 25 years and for 20 of those years she has been a part of the women's Bible study, where she attributes much of her growth. "God gets all the glory for that;" growing her in her love for the Word. In the beginning, she found it difficult to share in the small groups, as she was tempted to compare herself to others. She was really timid and never saw herself leading or speaking in front of a group. But through the years God gave her a confidence to share what He was showing her in the Bible study and continued growing her as she stuck with the Bible study and her commitment. She recognized that when you stay "focused on the Lord and what He wants to show you, keeping your eyes on Him and taking those steps of faith and opening yourself up, being faithful in the little things, no matter what those things are, [and] getting your Bible study done," you will grow. God had some stretching to do in her life. "It's a process. God knows what we need and He is constantly at work in our lives."
God called her into a couple different ministries that she didn't at first see herself serving in. He opened up an opportunity for her to fill the church pews with cards and to prepare the Bibles for decision follow-up, and having joy in doing those tasks. She never thought she would serve in the convalescent ministry; it was very foreign to her. She didn't have any experience. It was a stretch as she leaned into Him for strength. And when she had made a decision to pray with some other moms in a home, to build her prayer life, she saw God answer profoundly as her daughter came back to the Lord. She began serving in the Prayer Ministry, and as she prayed out loud with other women at church, the Lord continued growing her in confidence.
Peggy's faithful steps of obedience to the Lord's voice led her down a path of continual growth in her walk with the Lord. "No work can be done without the power of His Spirit." And this solidified in her that it is all about Him and His power. It takes a willingness to present ourselves as a living sacrifice (Romans 12:1), setting our thoughts and emotions aside, making faith choices, not choices based on our feelings.
Peggy is one of the leaders in the women's ministry and she shares that it is a blessing to serve and see growth in the women, watching their faithfulness, and how they branch out as God uses them in different ways. At the end of 2016, she prayed asking God to enlarge her tent and within a month got a call asking if she would like to serve as a mentor for Mentoring Matters. Those nine weeks were such a blessing for her as she invited seven ladies to her home to go through a study for brides to be, mentoring for future godly wives. She saw God's hand moving as two of the women on the first night recognized each other from a previous Harvest Crusade; one had come forward to receive Jesus Christ as her Lord and Savior and the other had counseled her. A divine appointment. The women had a great time, and through the study, Peggy enjoyed hearing the testimonies of the women as they made changes in their own lives that made a difference in their relationships.
Today, quick obedience is Peggy's heart's prayer, as she looks back and sees the spiritual growth that comes with obedience.