"Every good and perfect gift comes from above." —James 1:17
God has given us the perfect gift in life. A sacred gift. A gift to be protected. A gift to cherish.
As President Ronald Reagan stated in a proclamation on January 13, 1984, declaring January 22 as National Sanctity of Life Day, "The values and freedoms we cherish as Americans rest on our fundamental commitment to the sanctity of human life. The first of the 'unalienable rights' affirmed by our Declaration of Independence is the right to life itself, a right the Declaration states has been endowed by our Creator on all human beings — whether young or old, weak or strong, healthy or handicapped. . . . Abortion has denied them the first and most basic of human rights, and we are infinitely poorer for their loss. We are poorer not simply for lives not led and for contributions not made, but also for the erosion of our sense of the worth and dignity of every individual."
Since the Roe v. Wade decision in 1973, there have been over 55 million legal abortions.
These babies will never smile, will never cry, will never reach out to the hurting with the love of Jesus Christ, they won't feed the poor, or pray for the sick. Every baby has value, as Psalm 139:16-17 states, "You saw me before I was born. Every day of my life was recorded in your book. Every moment was laid out before a single day had passed. How precious are your thoughts about me, O God! They are innumerable!" (NLT).
Burdened to save the unborn, Steve and Alice Sanders participated in Operation Rescue, where they sat in front of abortion clinics. Alice shared the gospel with the moms walking into the clinic, while Steve blocked the doors. This lead to Steve getting arrested a number of times under "a misdemeanor trespass," and while spending a week a jail with the possibility of spending 6 months in jail should he get arrested again, he and Alice prayed asking God for direction. Steve wanted to be home to raise his boys; he didn't want to spend time in jail. So, they went to Harvest and asked whether they had a Pro-Life ministry. They were directed to Heartline, a ministry started in 1984 by a couple women at Harvest.
Today, Steve and Alice are the Directors of Heartline. They are missionaries to the community reaching those that are pregnant and uncertain about the future, with the message of the gospel. Their focus is on evangelism, as they know that educating the mom on fetal development can change her mind and save her baby's life, but a surrendered heart to the Lord changes the mom's life and eternal destination while impacting her baby's life for the glory of God.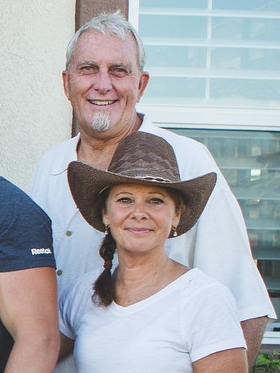 They have been serving in this ministry for 30 years, counseling and encouraging the moms and boyfriends. They simply desire to meet the needs of the community. This past year, approximately 1,600 people came through the door and over 170 people made commitments/recommitments to the Lord. The counselors also received over 2,000 phone calls. They passed out between 4,000-5,000 diapers, baby blankets, baby clothes, and other various baby items, and helped 165 children at Christmas.
It is a ministry to the community that seeks to honor and glorify God by honoring the sanctity of life.
If you are interested in participating in the Heartline ministry:
The Front Office has baby bottles that you can fill up with spare change.
You can drop baby items off at the Front Office or at the Heartland office at
6881 Brockton Avenue, Riverside, CA 92506.
Or if you would like to volunteer, the Front Office has Ministry Questionnaires.