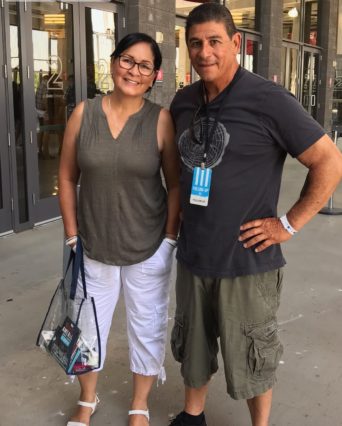 Many have the gift of hospitality, and it is such a blessing when those gifted feel called to open their home. The community grows together when the church comes together, using their gifts for God's glory.
Last year when V2 started their home Bible study groups, Gilbert and Angie Deleon felt called to host the study. They signed up as leaders for the Dos Lagos community, and soon they started feeling the spiritual warfare that comes with steps of faith.
Angie worked for St. Jude as a receptionist, and after she and Gilbert made the commitment to open their home for the V2 study, her manager put her on the night shift. A coworker was willing to cover her shift on Tuesday nights, but her manager wouldn't allow it. After praying about the situation, believing the Lord had opened the door for her and her husband to have the home Bible study, she had such peace with her decision to stop working there. No regrets.
"The Lord provides for us," Gilbert shared. Angie never worked until all of the kids were in school and she went to work simply because she wanted to get out of the house and help. The Lord, this past year, provided her with two jobs that she loves. She works for a school part-time, and also for Harvest in the Church Office. Looking forward, Angie shared, "I want the Lord to continue to work in my life and for me to step aside. It's not what Angie wants; it is what the Lord wants. The Lord is faithful."
This is their second year hosting V2 in their home. The group loves it so much that when the Bible study ended last year they wanted to keep meeting, so they met once a month during the summer. A few of the couples shared with Gilbert and Angie that they weren't sure what they would do if they didn't have the study; they look forward each week to gathering together with everyone.
Oftentimes people are afraid of saying the wrong thing when they are in a group answering questions. If they don't understand, they won't ask. But when people come together in a small group study and become comfortable with one another, they realize, "No question is a dumb question." People are free to ask questions when they don't understand, without having to fear criticism or condemnation. The question is then opened to everyone to share and answer. The group comes together to encourage one another, realizing that when they work on the study, what they put into it they will get out of it and everyone else benefits too. For each holiday their group loves to host dinners–simply a time to get together and enjoy each other's company and fellowship.
Gilbert and Angie have been married 40 years, they have four children and 11 grandchildren. They both received Christ into their life when they were 22 years old. Gilbert had a troubled youth. His dad left when he was 11, and he became mad at the world. He got involved with the wrong people and gangs. He was incarcerated as a youth. But then the Lord took that anger and violence and replaced it with a love and compassion that only He could give.
Gilbert and Angie moved to Riverside County by faith and they believe that spiritually it was the best decision they made. "It was a revival and renewal for us to come to Harvest."
As Angie has been working in the Church Office, welcoming the people coming in to receive the Christmas baskets, and as Gilbert has been serving on the Prayer and Share team, they both have recognized how Harvest meets the needs of those within the community and from other churches. The generosity of the people at Harvest is serving the community on a larger scale, meeting the needs of the people of God.