The age most people run from, others run to. Awkward years needing a shepherd to guide and point to Jesus Christ. The Jr. High Ministry.
Walking into the Loft at the Riverside campus, one sees two-year-old Finley pushing a chair right up to her dad, looking up with a smile, turning, and carrying it back. Then Avery toddles over to her dad. He picks her up and she immediately lays her head on his chest. Pastor Brad Jr.'s wife, Lindsay, is standing by, talking with the leaders and students as they walk in.
Going up the stairs, one sees students everywhere—playing video games, air hockey, ping-pong. They are laughing and talking with friends between services. Soon a leader ushers them all downstairs to their seats as Pastor Brad Jr. shares the plan for the day. It's different this Sunday; instead of having worship and a message together in the Loft, they are going down to the Sanctuary to join the church in giving thanks to God for the work He did at the crusade.
The junior highers absolutely love the fact that Pastor Brad Jr.'s family is involved in the ministry. Their comments included:
"Pastor Brad helped me get through junior high."
"He's like a second dad."
"Finley helps Pastor Brad out and it's cute."
"Finley is awesome! So cute and very playful."
"And the way his wife dresses is bomb."
"He's crazy and that's what we like about him."
"He makes the messages so we can understand."
"Pastor Brad makes funny jokes."
"He's hilarious."
"His teaching is very applicable."
"He is very honest and straightforward."
"Really easy to talk to him."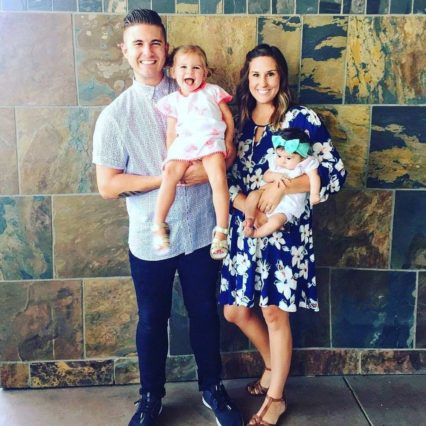 One student commented that at school she has a friend that is not a Christian. She talks to this friend about Jesus, remembering what she learned in the Jr. High Ministry, "to let them say what they want to say and when you listen they will be more receptive to you . . . [I] learned at church to pray about it and praying for them to receive it."
So too, many high schoolers loved the community within the Jr. High Ministry so much that they came back to serve, helping in whatever way they can.
In talking with Pastor Brad Jr. and Lindsay about community, they shared a personal experience about when the community surrounded them in prayer and support at a difficult time in their life. One week before Finley's second birthday, she was diagnosed with Type 1 diabetes. It was a struggle for both of them. Pastor Brad Jr., admitting to struggling with a cynical outlook and not wanting to talk about it, soon recognized the community surrounding them calling it their own burden. The community was just there for them. They didn't say much; but their physical presence of support was sincere and needed. It's important "to not feel like you have to have it all together, and that you can do it on your own." When people isolate themselves, they realize how weak they are; but "when the community comes together there is a genuine family atmosphere that comes into play."
The community within the Jr. High Ministry provides that family atmosphere for the students, gathering them together to reach them right where they are with the love of Jesus Christ. A new series will be beginning soon for the start of the school year called Against All Odds, from 2 Corinthians 4:8–9. This series aims to equip the students with the gospel for their campus, ready to defend their faith in the classroom.