A Christian community comes together and supports one another, for then the world sees one anointing (see Psalm 133). The cross is the secret to a unified group of sinners. It's the call to make it known. The world is naturally drawn to those proclaiming they are new creations in Christ; as Dietrich Bonhoeffer once said, "By seeing the cross and the community beneath it, men come to believe in God." What better place to make Him known than a public beach, where believers are sharing with the world the transformation that has taken place in their heart because of the cross of Christ?
Families swarmed Pirate's Cove on September 9 to be baptized. Some said it felt like Jesus' time with the crowd surrounding the shore. Many standing on the rocks came from Riverside and Orange County simply to support and be a part of what God was doing.
Cambria, age 9, shared that she wasn't planning on getting baptized that night, but she heard Pastor Greg say that "getting baptized is another step forward." So, she thought to herself, "How about I do this now, not later." She said it was hard to describe in words but it felt cleansing like a huge weight was lifted. Her sister, Makaya, age 16, also shared that she felt fresh when she came out of the water, and with the music playing it was like being in God's presence. She felt like a child because she was so excited; she loved getting baptized at the beach.
One family shared, as they are still growing in their faith, it's been new to them to experience a community of people supporting them. At the beach, it was inspiring and motivating to see all the people gathered. The church "coming together, needing Christ, and supporting each other in their need for Christ." Without any pressure, everyone in their family made their own decision to get baptized. Watching her two daughters and her son come up from the water with huge smiles on their faces made this one mom's heart feel joyful. It was special getting baptized together. They simply wanted to show their love for Jesus Christ. "God is teaching us how to open our hearts and share our hearts."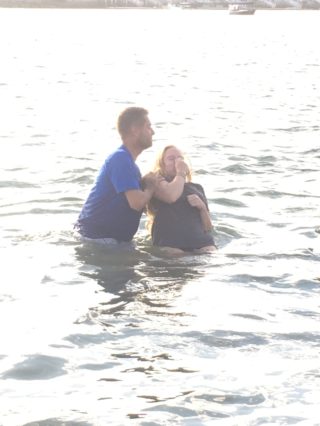 "This is My beloved,
In whom I am well pleased."
Can you hear the Father's heart,
Affirming your decision to obey His decree?
Coming up from the water,
Looking to the sky,
Death to the old life,
Alive in Jesus Christ.
A new creation,
Born again,
Showing to the world,
What has taken place deep within.
Your life transformed,
By the Man who paid the price,
Dying the death you deserved,
So you could experience eternal life.
In heaven,
With Him,
Face to face with Jesus Christ,
Surrounded by fellow Christians.
What love displayed,
Witnessed across the sky,
The love of Your Father,
Smiling down from on High,
Affirming your decision,
To be baptized tonight.
In the name of the Father,
And of the Son,
And of the Holy Spirit,
Called to serve the One.
Going into all the world,
In complete obedience,
Revived to reach,
Knowing Your Father is well pleased.
Stay connected to church with weekly e-mail(s) including events and opportunities to serve. Sign up here!