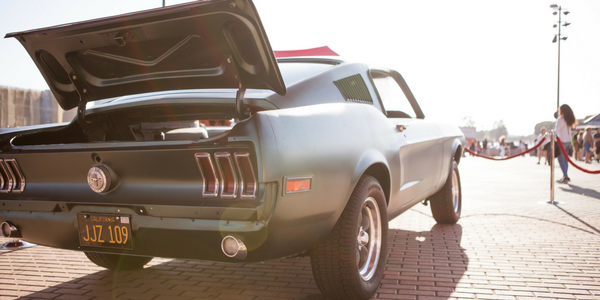 Waking up on the one-year anniversary of his father's death, weeping, Ralph Garcia Jr. was overcome with the weight of loss and was on his knees praying. That same day, a share of the original Bullitt from the 1968 movie was given to him—a gift.
It was found at someone's house in Mexico. No one knew it was the Bullitt. There were two Bullitts used in the movie and this one was the stunt car. Once damaged, it was sent to the scrap yard, and from the scrap yard to Mexico, where it was registered. The Mustang got painted immediately to red and then white, losing that authentic green shine that set it apart. It was used daily in Mexico and Steve McQueen wanted to find it. He never did. He would go fishing in Mexico, not realizing he was as close to the Bullitt as Pasadena is to Downtown LA.
Hugo Sanchez, a car collector, found the Fastback near Cabo San Lucas and wanted to turn it into an Eleanor. Ralph owns shops in Mexicali and Paramount that make replicas of Eleanors, and that was how he first learned of the car. The minute the VIN number was run and the realization came that it was the original Bullitt, Ralph got the call: "Don't touch the car." The lost Bullitt was found.
Last year at the Harvest Crusade, Ralph sat in the stands listening to Pastor Greg share about Steve McQueen's salvation and the Bullitt Mustang. Four months later, Ralph had the original car. The first person he thought to contact was Pastor Greg.
Pastor Greg sent for Pastor Steve Wilburn, another Bullitt fan, whose nickname for him is "Boss," having served as a pastor at Harvest for 15 years. Steve is now the pastor of Core Church LA. Pastor Steve joined the men in Mexicali for the reveal, as the Ford authenticator from Arizona confirmed the authenticity of the car.
Pastor Steve invited Ralph to Core Church, where he has been going ever since. After the revealing of the car, Hugo traveled from Mexico to visit Core Church with his wife and children. When the service was done, he asked if he could speak with Pastor Steve, and at that moment, Hugo gave a percentage of his share of the Bullitt to Core Church as a gift. His mother raised him to give to the church and he wanted to bless it.
Ralph accepted Jesus Christ as his Lord and Savior 17 years ago at Harvest Christian Fellowship. As he talks about the Bullitt today, he constantly says, "It has been a blessing." So many Christian men have come together and are working on the car, restoring it back to the original. It is a community of people wanting to glorify God and share Jesus Christ with all of the Bullitt fans, getting the attention of the nonbelievers.
"God just put us all together," Ralph shares. "God brought this Bullitt to us . . . to share the gospel."
You can bring a friend to hear the gospel at your local movie theater on September 28 at Steve McQueen: American Icon! Find a theater>>