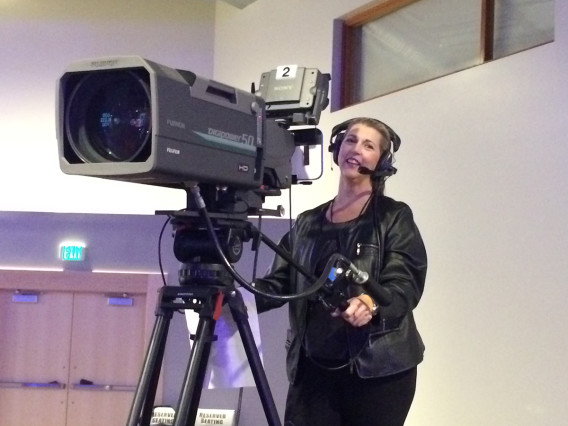 Meet Dena. She's a camera operator at Harvest OC.
Twenty-five years ago Dena was studying video production and had every intention of making it her sole profession. Her goal was to make it big in video production and as a result her career took center stage. Everything else in her life ended up as second priority, including her children. But God had other plans.
In 1993 a coworker invited Dena to attend a Harvest Crusade. The Lord opened Dena's ears that day and she heard the truth of Jesus' love as Pastor Greg Laurie preached the gospel. The Holy Spirit opened Dena's heart and she was overwhelmed by the truth of God's love— so overwhelmed, in fact, that she couldn't make her way down to the field. After the crusade, Dena prayed with a woman from Calvary Chapel Cypress and Dena put her faith and trust in Jesus as Lord and Savior of her life. God opened Dena's eyes as she prayed and her eternal destination was forever changed.
In the days following the crusade, the Lord prompted Dena to "lay aside her Isaac" (her work in video production) and put her children first. Dena wasn't quite sure how she was going to support her two children as a single mom but she trusted God and walked away from video production. The Lord blessed her soon after by providing Dena with a job working as an accountant at Calvary Chapel Cypress.
Expecting her second marriage to last a lifetime, Dena was devastated when it ended in divorce. Her husband was not walking in the way of the Lord and left Dena with a broken heart. But God (don't you just love those "but God's"?) sent Dena a beautiful sister in Christ to be His loving arms in tangible form. With the kindness of Christ, Dena's good friend Darice invited her to attend church with her at Harvest Orange County and the Lord began healing, restoring, and returning friends, relationships, and opportunities that had once been lost.
After attending Harvest OC for six months in 2013, Dena heard an announcement about the need for volunteers to serve in the Video Ministry. Dena shares, "My heart leapt and I knew God was saying, 'Now is the time; respond to the call.'" There are plenty of opportunities to serve at Harvest but God made sure Dena was there in just the right place, at just the right time, to hear His call. "It was such a thrill to be part of the team for Harvest America. I was blessed to serve at the OC campus," stated Dena. "The video team has become a second family." Dena encourages us to pray for the video team, as there always seems to be something that doesn't go quite as planned. "We have to be on our toes and ready to react at a moment's notice."
A verse that comes to mind as Dena shares her story is Joel 2:25, "So I will restore to you the years that the swarming locust has eaten." We may not know God's plans for us, but His direction for us is based on the love He has for us. He's shown this to Dena by restoring the years the locust had eaten. She gave up video production to raise her children and has encountered some devastating heartache in her life but God is using Dena's experience in video production, as well as her heartfelt desire and love for Jesus to serve Him on the camera crew at Harvest OC. How great is our God!