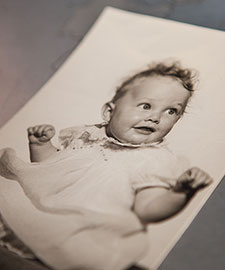 Precious little baby girl—birthdate unknown. Five, maybe six days old. Abandoned thirty feet off a lonely Indiana highway. Left all alone in the woods, hidden in weeds three feet high. Her newborn body wrapped in a towel—umbilical cord still attached. Tiny lips, hands, and feet blue from exposure.
This is how life for Ellen Suey began in the fall of 1955.
When you meet Ellen, you would never know that this adoring wife, mother, and grandmother had such a perilous start, because genuine love and forgiveness—the kind that only Jesus gives—flows through her as she recounts her unique beginnings.
She and her husband Bob (Harvest America volunteer), are longtime Riverside residents and have faithfully attended Harvest for 21 years. She is the mother of two adult children, and has four grandchildren—with her loving 12-year-old grandson "Bubba" at home with the Lord.
Ellen says, "Being at Harvest is like going home to family. A big huge family! Everyone I have met is so friendly and willing to help and share. We have met some wonderful people over the years. Pastors Greg and Jeff have helped me to understand Scripture better and challenge me to get more into the Word."
Her favorite Bible verse is Jeremiah 29:11; she says that it "pretty much sums up my life from day one, when God had the farmer and his grandson find me. Whoever put me in the woods left me there to die. God said He had plans for hope and a future for me. He did just that with the wonderful [adoptive] parents I got and still today with my awesome family."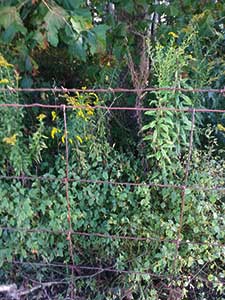 Indeed, her grandson Bubba told her two weeks before his passing, "Grammy, we wouldn't be here if the boy hadn't found you."
She knows that her story "is an amazing one of God's power and love." Unexpectedly rescued from those woods. Cared for at the local hospital. Adopted.
Are you struggling with trials and hardships? Ellen says, "Get down on your knees—just pray! My mom prayed for years. Not one day went by where she didn't pray. That's the most powerful tool that we have."
Ellen's story is undeniably a true testimony to our Heavenly Father. He supplied her needs before she even knew she had any. He cared for her before she had a care in the world. He gave His angels charge over her lest she dash her tiny little foot against a stone. And, He sent her a rescuer before she even knew she needed to be rescued. Because that's who God is, and that's what He does for His children.