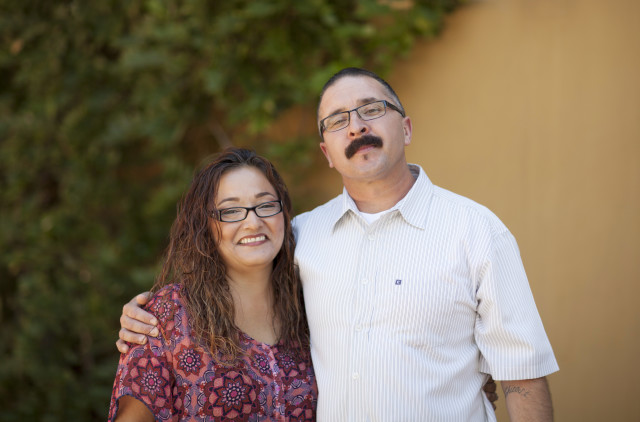 Five years ago, Regina Alcantar was on the verge of divorce. Her husband Carlos was addicted to drugs and their lives were in shambles. Regina was so distraught she even considered taking her own life. As she contemplated this, she heard a voice clearly say to her, "I am here for you. I will never leave you or forsake you." Regina said she felt a presence with her and she immediately got down on her knees and began to pray. That night she told her husband he could not stay in their home as long as he was using drugs. Carlos left and began living on the streets.
Regina prayed consistently for an answer on what to do about her marriage. One day, after praying, she turned on the radio to hear Pastor Greg preaching on the importance of continuing to pray for your spouse and to never lose hope. Greg said to "pray fervently and with all your heart." Regina, who had never read the Bible before, began to study the Word. She started to attend the women's' Bible study at Harvest and found comfort in other believers.
After a month of fervent prayer for her husband, Regina was starting to give up hope. It was about that time that Carlos ended up in jail. He was there for 30 days. While in jail, Carlos found a Bible. At the time, he was unable to read or write. Regina went to see him every day. During each visit she read the Bible to him and prayed with him.
When Carlos got out of jail, he and Regina accepted Christ together and were baptized at Harvest. Five years later, their marriage of 21 years is godly and solid. Carlos is clean and sober and can now read and write. Regina and Carlos pray together every day, attend services at Harvest twice a week, and serve every year at the Harvest Crusades.
Regina shares her testimony in the hopes it will inspire other women who are struggling in their marriages not to give up hope, but to pray fervently and with all your heart for your spouse and your family.
Regina's favorite verse is James 4:7-8: "So humble yourselves before God. Resist the devil, and he will flee from you. Come close to God, and God will come close to you. Wash your hands, you sinners; purify your hearts, for your loyalty is divided between God and the world."